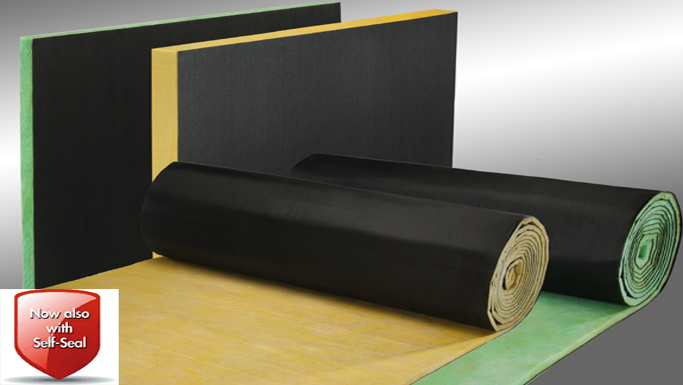 KIMMCO Clean liner is a highly efficient acoustic material, produced from strong resilient glass fibres firmly bounded together with a thermosetting resin.
KIMMCO Clean liner is used to line air conditioning ducts, wall, and/or ceiling of acoustically sensitive areas to provide efficient sound insulation for any variety of structure, and/or sensitive facilities as home theatres or studios, curtain walls.
KIMMCO Clean liner is faced with a black, strong, durable, dimensionally stable woven glass fabric.
Availability
Thickness (mm)
Width (m)
Length (m)
Roll
Board
Rolls & Boards
15

25

40

50

1.2

1.2

1.2

1.2

20

20

20

20

1

1

1

1
THERMAL PERFORMANCE: Tested in accordance with ASTM C518.
ACOUSTIC PERFORMANCE: KIMMCO Clean liner is especially designed to provide exceptional sound absorption to acoustically sensitive environments and/or equipments as air-conditioning equipments, auditoriums, theatres, studios, acoustical building assemblies, curtain walls.